These FAQs relate to the 2023 Reservoir Dog.
What's involved?
There will be 2 cycle routes to choose from:
The Reservoir Dog – it's a bit of an animal. This is a 125km route around the Wicklow mountains, which takes in 3 of the area's reservoirs (hence the name!) Warning: Beware of this dog – it bites! This is a tough route, intended for strong climbers. Not for the faint-hearted.
The Reservoir Pup – snapping at its bigger kennel-mate's heels. This is a 65km event taking in the Blessington Lakes Reservoir and some of surrounding rolling hills.
The event is open to people aged 16 or older (see specific terms for participants under 18 years of age).
The event normally gets underway from Russborough House at 9:00am. Please see Route Information for further details.
What does it cost?
Entrance fee is €40 and you can only sign up online!
NO ENTRIES ON THE DAY….
A one day licence for the event will cost non- CI members an additional €20
+ Eventmaster transaction charge.
What do I get?
Light breakfast at the registration area
Medical and Mechanical support on the road
Well stocked food and water stops
Well deserved BBQ at the finish line
Our unique high quality finishers souvenir
The satisfaction of completing a tough and picturesque route
What are the routes?
Note: We will be operating cut-offs at certain junctions this year. Details will be posted later…
Participants should note that this year we will be operating time restrictions at specific points along the course of the 125KM route. The time to be allotted will be generous but in the interest of safety Marshals will have cut off times at particular junctions. If cyclists do not reach those points in the allotted time they will be offered an alternative (shorter, less arduous) route back to Russborough. Failure to take the Marshal's advice (i.e. cyclists who wish to continue on the planned route) will mean that support from Marshals and Maintenance cars) may not be provided from that point on. And we cannot guarantee food at the finish! But we feel the cutoffs are generous and if you have done sufficient training to cycle reasonably comfortably in the Wicklow Hills then really you should not have anything to worry about!
125K – Reservoir Dog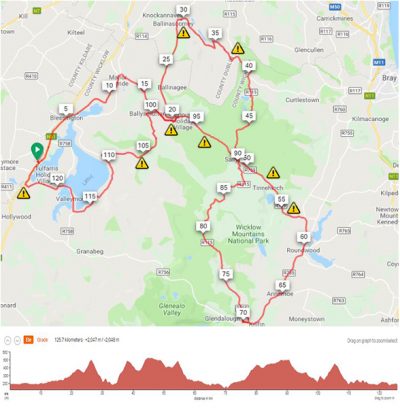 .
65K – Reservoir Pup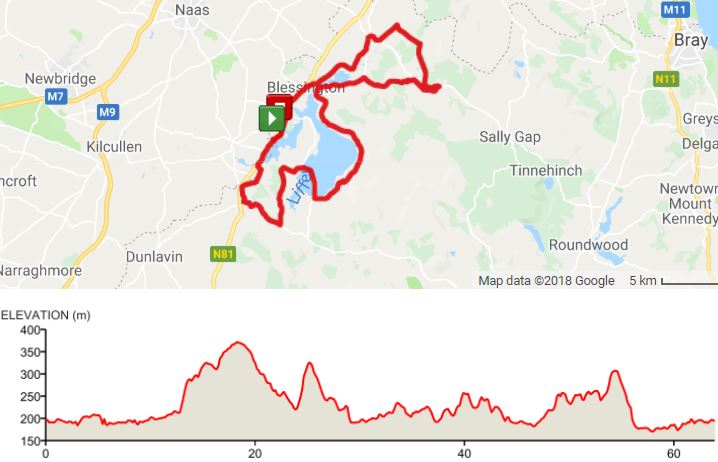 Why a
Sustainable Event

?

The Reservoir Dog Sportive takes place against the backdrop of the beautiful Wicklow and Dublin uplands. Our Sportive strives to minimise our impact on the environment at a local level while adhering to good practices to promote environmental sustainability in a wider context.
The areas where we try to make a difference to the event footprint are as follows;
– By minimising packaging waste, particularly from plastic packaging.
– Where waste is unavoidable we will try to use compostable and recyclable products.
– By maximising the amount of waste that is segregated for composting and recycling.
– By sourcing as much of our food and drinks as possible locally.
– We will examine ways to reduce transport related emissions associated with the event. (Watch this space).
– Promotion of the 'Leave no Trace' ethos and message to encourage our event participants to avoid littering.
– Develop partnerships between the Reservoir Cogs Cycling Club and organisations that are involved in environmental protection and stewardship.
– Reservoir Cogs CC is the first cycling club to adopt a 'Pure Mile' stretch of road in the local hills in co-operation with the Pure Project. Clean up and litter-picking activities are carried out by our club to improve the amenity value for all users of the 7.5km stretch of the Ballynatona over Ballynultagh Gap Road and down to Lacken Village which is now incorporated in this year's 125Km route.
– All funds raised from the running of the Reservoir Dog Sportive go towards local environmental enhancement work, biodiversity projects and accessibility works to allow improved access in the local environment..

Bring your wrappers etc. back to the finish and exchange each piece for a raffle ticket to be entered in a draw for a really nice prize.

Leave no trace!
Where is the start and finish location?
Russborough House is our normal start and finish venue – an imposing Palladian mansion – an unrivalled visitor attraction in a stunningly beautiful setting. Located approx. 4km south of Blessington Village on the N81. See here for map.
What time does the event start?
Cyclists can arrive from 07:30 onwards on the Sunday morning in Russborough.
Note however, that the 125km Reservoir Dog route starts at 09:00, and the 65km Reservoir Pup starts at 09:30
Are there parking facilities available?
There is free parking for participants at the venue. Follow the signage and the parking attendants.
Are there age restrictions?
Yes! All participants in the 125km Reservoir Dog must be 16 years or older. All riders on the 65km Reservoir Pup route must be at least 12. Any participant between 12 and 16 must be accompanied by a parent or guardian throughout the event. Any participant under 18 must have a consent form signed by a parent or guardian which must be presented at sign in on the morning of the event. Please download consent form HERE.
Are there food and water stops?
Absolutely – you will be well looked after! There is a food / rest stop after 69km on the 125km Reservoir Dog route. This refreshment stop is located in the Brockagh Community Centre in Laragh and will serve hot and cold drinks and snacks. There will also be water stops at 44km and 101km on the 125km Reservoir Dog route. There will be a food and water stop on the 65 km route located at the old Lacken School at the 36km point. There will be hot food and drink available for all at the finish. You will be provided with a wrist band at registration which should be presented upon finishing to receive your lunch.
How do I prepare for the event?
Participants in the 125km Reservoir Dog need to ensure a good level of fitness and should have been getting out on spins of three hours or more and including lots of climbing in the weeks prior to the event.
Riders tackling the 65km route should be used to spending over two hours in the saddle. Although not as tough as the 125km route, the 65km route is sprinkled with some tough climbs and drags.
What should I bring with me?
A hard shell helmet is compulsory for every rider. Bring a spare tube, pump, cycling gear. Mechanical backup will be available along the route.
Don't forget your bike! Whichever bike you ride it should have a selection of low gears for tackling the climbs. Your bike must be well maintained and in safe condition. Good, well-adjusted brakes are essential as there are some steep, fast descents on both routes. Time trial bikes or bikes with Tri Bars fitted are not recommended.
The Reservoir Dog Sportive Cycling Regulations
The Reservoir Dog Sportive is intended to provide every cyclist with the best event experience. In order to do this it is necessary to apply the following regulations for the safe & smooth running of the event. This list is not exhaustive and the organisers reserve the right to amend or add to it prior to the day of the event.
Safety approved cycle helmets are compulsory and must be worn at all times when cycling.
You may NOT ride under someone else's name under any circumstances.
You must Sign On on the day and within the times provided by the Event organiser.
You must be aware of other cyclists around you and enable faster cyclists to pass you. Please look over your shoulder before overtaking.
You must use a bike that complies with the following rules and is deemed safe for the purposes of the event, in the view of the organiser.
No bicycle, tandem or other machine, conventional or otherwise, is permitted to have unconventional handlebars including triathlon bars, aero bars, clip-ons, prayer bars, and cow bars. Neither are Spinachi type bars permitted. However, ATB bar ends are permitted on mountain bikes.
You may not deviate from the official route. If you deviate from the official route you are deemed to have left the Event
You are to co-operate with the traffic officers of An Garda and authorised marshals at all times.
The Organiser reserves the right to withdraw the offer of a place to anyone, at any time.
You may not use your mobile phone while riding. You must stop at the side of the road if you need to make or receive a call.
You may not use a music player with headphones while participating in the event.
Bins are provided for participants use at the Start / Finish area and rest stops. Participants must not deposit litter at any other point on the course during the event.
The event will take place regardless of bad weather and will only be cancelled, re-routed or stopped for reasons of safety however entry fees are non-refundable.
In the event of adverse weather conditions the organizers have the right to alter the route on the day of the event.
Participants must be aged 12 or over to ride in the 65km event. Riders between 12 and 16 years of age must be accompanied by a parent of guardian.
Participants must be aged 16 or over to participate in the 125km event.
Any participants under the age of 18 must have the relevant Cycling Ireland consent form completed and signed by a parent or guardian.