Membership Renewal
Welcome back to the Cogs. Thanks for joining up again. Have a good year and be safe!
To Renew your Membership:
(i) Download the Renewal Form and fill it in!
(ii) Post it to Bernard Higgins, Reservoir Cogs Cycling Club, Burgage Moyle, Blessington, Co Wicklow, W91C6X4.
Alternatively drop up any Sunday morning to Dunnes Stores car park and give the form  to any member of the committee in an envelope please.
(iii) Reservoir Cogs Cycling Club membership costs €30 per anum. and is now paid through Cycling Ireland's portal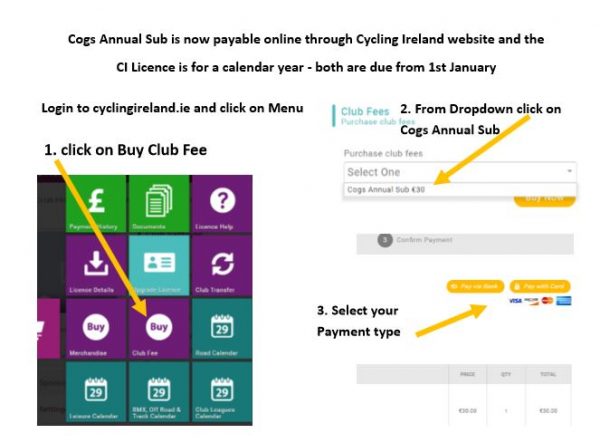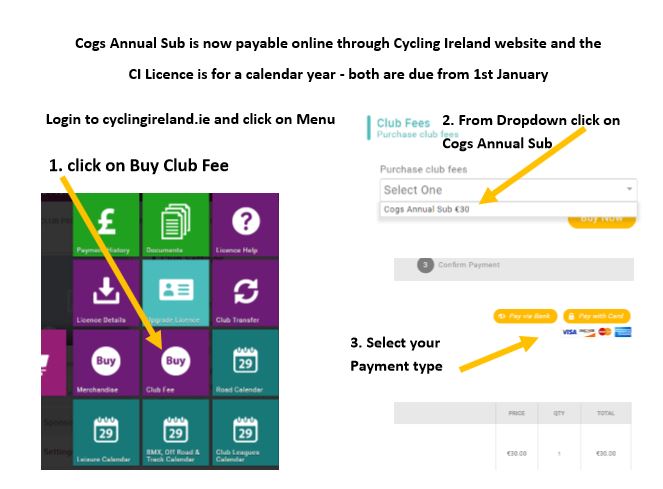 (iv) Renew your Cycling Ireland Licence by clicking on the link here
Cycling Ireland Licence is required to cycle with Reservoir Cogs groups as it includes your Insurance. Additional benefits are listed here (and you must be a cycling club member to be approved for a Cycling Ireland licence).
N.B. You must pay your Reservoir Cogs Annual subscription through the Cycling Ireland Portal before you can obtain a Licence as the two are now linked.
New Members
Welcome to the Cogs!
We suggest that before you join up that you meet up for a couple of Sunday Spins at 8.30 in the summer and 9.00 in the winter in the car park at Dunnes Stores in Blessington. After a maximum of 2 spins with the Cogs (different levels depending on ability, see the 'Groups' tab) you will be required to join the club in order to keep participating in Cogs Spins etc.
Joining is easy… albeit at this stage a little manual… we are working on improving this!
If you simply download and complete the Membership Form and follow steps (i) , (ii), (iii) and (iv) above.